summer in west yellowstone
When it comes to summertime activities, the West Yellowstone area is an outdoor enthusiast's paradise. The long summer days provide visitors unlimited access to explore and play in the splendor of the high country. You can fish blue-ribbon trout streams, hike in pristine wilderness, experience real Western horseback riding, go whitewater rafting, or mountain bike on hundreds of miles of singletrack and forest service roads.
In addition to the regal Yellowstone National Park right next door with its famous geysers, wildlife, and waterfalls, there's adventure to be found just to the west. Hebgen Lake, with its miles of shoreline, offers camping, boating, canoeing, and the best stillwater fishing in Montana. Take an afternoon and learn to kayak on this clear lake surrounded by beautiful mountains. Just beyond is Quake Lake, formed during the night in 1959 when a 7.9 quake rocked the Madison Valley causing a mountain to fall.
With summer comes a wide variety of activity choices, like local rodeos, The Museum of the Yellowstone, Yellowstone Aerial Adventures rope & zipline course, Yellowstone Giant Screen Theater and the Grizzly & Wolf Discovery Center with their new River Otter & Riparian Exhibit, bears and wolves.
Don't miss special events, like the 4th of July activities, free music in the park, the annual Yellowstone Rod Run car show and Cowboy Mounted Shooting competition to name a few.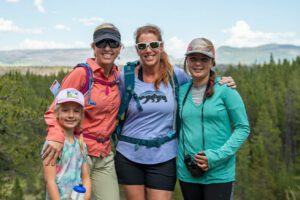 With multiple direct flights into Bozeman, Montana, getting here is quick, easy, and affordable! The Bozeman Airport is 90 miles from West Yellowstone – click here to discover flight options.
Idaho Falls, Idaho, is only 110 miles from West Yellowstone and also offers multiple flight options. Click here to find flights.
West Yellowstone Airport: Flights available until mid-October with connections in Salt Lake City. Click here to find flights.
OTHER TRANSPORTATION
View rental car and ground transportation here.