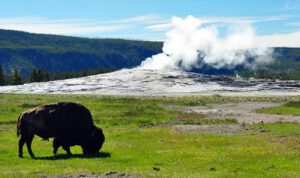 West Yellowstone, Montana, has been hosting Yellowstone National Park visitors since the early 1900s. Over 1.5 million visitors enter the park here annually to experience the unique beauty of America's first national park and leave with lifelong memories.
Visitors can explore the mountains, forests, lakes, and waterfalls. All while watching wildlife along the rivers or in the open grassy meadows. Open year-round (with the exception of a few weeks each spring and fall), each season brings a new perspective to this vast ecosystem. People from around the world visit to fulfill this lifelong bucket list item. We like to think they all leave with a new appreciation for the wild lands in addition to an experience they will never have anywhere else.
Spend your days angling for trout or hiking and biking on the numerous scenic trails in the area. Keep your camera  ready to capture the picture-perfect beauty of the region and its wildlife. In the winter season, snowy landscapes, erupting geysers, and geological wonders provide the perfect backdrop when snowmobiling inside the park. Experience a unique adventure with a guided snowmobile tour.
Make your base camp at West Yellowstone, where the park and recreational opportunities are right out your front door. It truly is a vibrant and charming small town that serves as the gateway to all the natural wonders of Yellowstone. Old Faithful, Grand Canyon of the Yellowstone, Lamar Valley—click here to learn about these unique attractions and more inside Yellowstone National Park.